Appearance and Uniform
Please wear our uniform with pride
We take great pride in the appearance of our students and in the co-operation of parents on this matter. We feel that this has helped the general discipline and tone of the school. Fashion items are not part of the school uniform; please see below for further guidance. The overriding factor in our choice is that students should wear safe, practical clothing, which reflects a smart, dignified appearance. The school reserves the right to take disciplinary action against any student whose uniform does not comply with these requirements.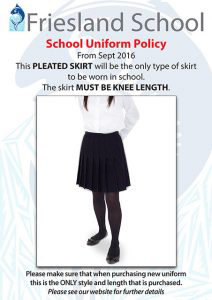 The school will be the final arbiter on what is deemed to be acceptable as school uniform.
All students must be in school uniform from Years 7 – 11 inclusive.
Blazer and Tie
Navy blue blazer with school badge
School tie – clip on
Shirt
Plain white with collar
Plain style
Buttoned to the collar
Tucked in at the waist
Polo shirt
Round collar
Fitted fashion shirts
Trousers/Skirt
Black straight leg/boot cut school trousers.
Black pleated knee length school skirt
Tight/skinny trousers
Leggings
Fashion trousers
Denim
Stretch skirts
Skirts which are too short/tight
Wrap around skirts
Jumper (optional)
Plain navy blue v neck jumper
Cardigans
Black jumpers
Hoodies
Shoes
Plain black leather school shoes
Practical and safe style
Trainers
Boots
Canvas pumps
Logos
Socks OR Tights
Plain black, white or navy
Plain black or natural
Bright coloured or patterned socks
Leggings/footless tights
Patterned tights
Jewellery/accessories
One wristwatch
One pair of small studs (5mm) or small hoop earrings (10mm)
Hats, gloves, scarfs (optional) – plain navy blue or black
One flat ring
Other piercings
Bracelets
Necklaces
Excessive make up
Nail varnish and long nails
Nail extensions/false nails
Hair
Hairstyles should be of a sensible nature for school – they should not have the effect of drawing attention to the student concerned.
Long hair to be tied (if desired) discreetly with a navy blue/black accessory
Unnatural variations in colour
Dip dyed hair
Shaved patterns
Additional hair accessories
Coat (Optional)
Plain and dark in colour
To be removed in lessons, registration and assembly
Leather jackets
Denim
Hoodies
Llogos/writing
Equipment
Pen (and a spare)
Pencil (and a spare)
Ruler
Eraser
Sharpener
Coloured pencils
Pencil case
Calculator
PE Equipment
Navy t-shirt
Navy 1/4 zip jumper (optional)
Navy waterproof coat (optional)
Plain black shorts
Plain black leggings (optional)
Plain black jogging bottoms (optional)
Navy socks
Trainers and 3G football boots (for the new football pitch)
A gum shield is recommended; these are sold through the PE department.
Uniform Sales
Our uniform is available from:
Ties, hats and scarves can be purchased from the School.
Whilst high street stores have uniform sections please be aware that they do not always comply with our uniform policy as these stores are primarily fashion retailers and not official school wear suppliers.
Please contact the school if you are unsure of the suitability of any uniform.