Testing Timeslots
Posted:
As I said we would do on Friday in our re-opening letter, today's letter explains the process for testing in schools in a bit more detail, including the timings for the first three days of testing when not all students will be in school.
Having looked again at the logistics now that we have had all of the consent forms in, we have further increased our testing capacity to allow us to conduct over 4000 tests in 9 days.  After which point testing, in all but a few cases, will happen at home.
The timings to access your child's first lateral flow test are below, we have allocated form groups 20 minute slots rather than trying to give over 400 individual appointments per day.  It is important to realise here that children will be on site for between 20 – 40 minutes, depending on how quickly the testing is moving, and will need to maintain 2m social distancing and wear their face mask during that time.  Queuing to enter the testing centre has to happen outside, so whilst students do not need to wear uniform for their testing appointment they will need to be appropriately dressed for the weather conditions that day.
Students will line up outside the sports centre, using the markings provided, and will queue down towards the sports centre car park.  Having been tested students will follow the one way system and leave the site the same way they came on, but on the other side of the road.  It is really important that student coming on site to test only queue to test, test and then leave.  It will be clear where students need to go and we will have staff to guide them.  A video of the testing centre procedures and how that works has been shot and can be found on this link https://drive.google.com/file/d/17J_RAAIyphpadA7-IDNThJSaWjp-WZ18/view?usp=sharing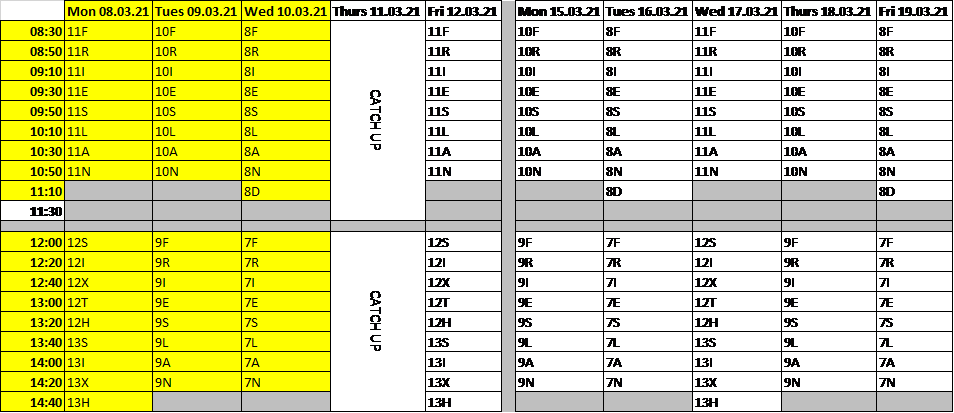 As I have said, for this to work the test and subsequent cleaning of the desk/booth needs to take approximately 10 minutes.  With queuing time we estimate students will be on site for 30 minutes.  On arrival students should not head for the main school building but instead walk up towards the sports centre past the sports centre car park, staff will be on hand to guide students to where they need to be.
We have purposefully left Thursday 11th March as a catch up day, as this will be our first day fully re-opened and we did not want to disrupt learning with further testing.  Testing during lesson time will then commence from Friday 12th March.
Can I confirm that all testing is done on a voluntary basis, if you have not given consent for your child to be tested they can still return to school on the allocated day along with the rest of their year group.  If you have any questions about this process please do not hesitate to get in touch.
Yours sincerely
Craig Patterson
Headteacher